It is getting closer to that time of year – when Christmas is near, and the season of giving returns! The NASCAR community is one that always gives back, and the holidays are a special time when families come together to celebrate the season of good cheer. Many NASCAR drivers give all year long through their foundations and now is your chance to give along with the drivers! This holiday season, Lionel Racing is excited to release a collection of fantasy holiday cars for some of your favorite drivers and their foundations! Each diecast features a creative design that adds a touch of joy to any collection. From elves to ornaments, and presents to trees, each diecast has a unique deco that add warm fuzzies to any race fan's heart! With each sale of these great diecast, a portion of proceeds will go to the specific charity! The following foundations are featured in this program:

Jimmie Johnson – The Jimmie Johnson Foundation
Jeff Gordon – Jeff Gordon's Children's Foundation
Tony Stewart- Tony Stewart Foundation
Kyle Busch – Kyle Busch Foundation

Dale Earnhardt Jr JR Motorsports Christmas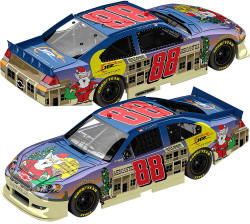 The #88 Chevrolet of Dale Earnhardt Jr. gets the Christmas round-up treatment in this very merry design by Sam Bass. Inspired by the Wild West town on Earnhardt's personal property, the scene features a buckaroo Santa, along with a decked-out cactus and a holiday greeting. Don't let this die-cast drive off into the sunset without you!

Tony Stewart Office Depot /Mobil 1 Christmas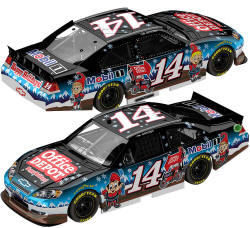 It's a smokin' Sam Bass Christmas with Tony Stewart's No. 14 Office Depot Chevrolet. This special holiday design features Santa's little helpers delivering loads of Office Depot racing goodies in a super-cool snowscape.


Kevin Harvick Sam Bass Christmas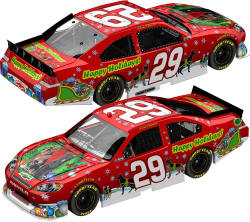 Christmas is the time to remember all the special folks in your life - especially your furry four-legged friends! This No. 29 Chevrolet features Kevin and DeLana Harvick's three beloved (and now-famous) pooches Lo, Endy and Bebe, serving as Santa's little helpers. The canine trio is pulling Santa's sleigh, filled with fun treats and presents, through the holiday snow.